Booking Travel: Advice for GO Long/GO Your Way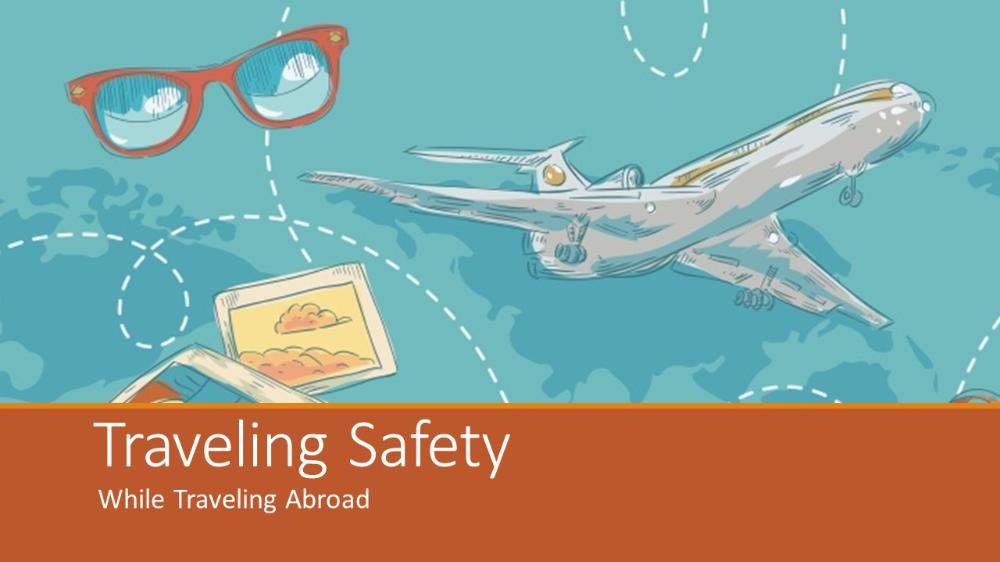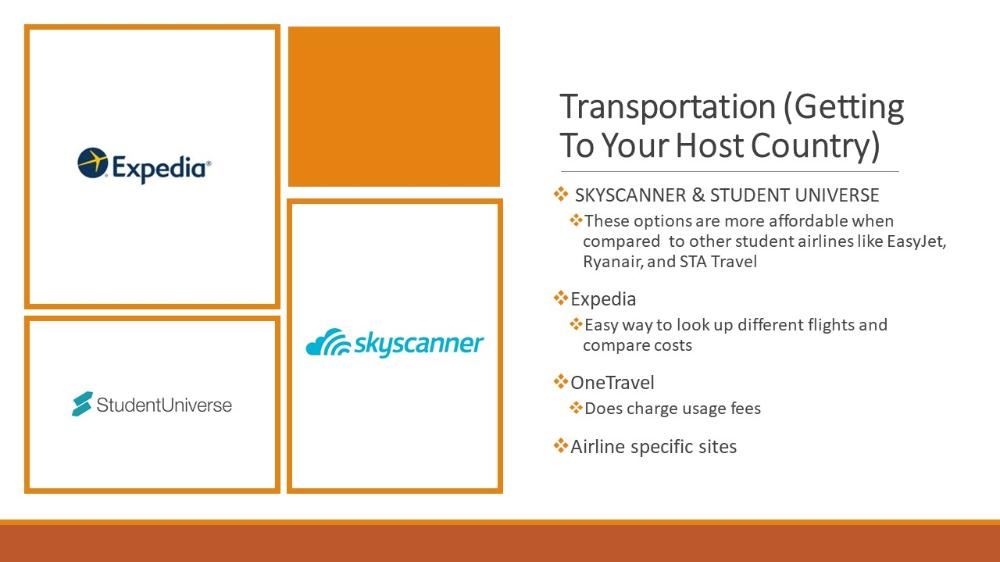 Student Universe – this site allows you to buy directly on site, have travel agents to assist you - https://www.studentuniverse.com/
Skyscanner – checks multiple travel sites for the best deal to purchase tickets - https://www.skyscanner.com/
Don't be afraid to check out websites for specific airlines
, whether you have a loyalty to American Airlines, or good experiences with Delta Airlines. Direct site buying can also have some deals, but also allows for more direct communication with customer service.
Look into your host country's national/international airlines as well.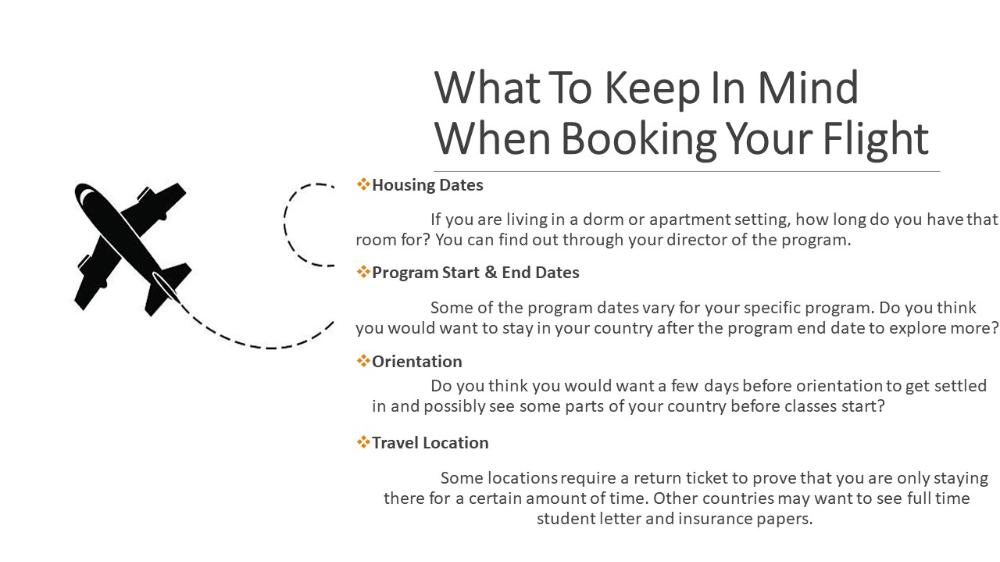 Pay attention to dates, because this may not be the case for every program.
The housing dates are when you are able to move into your selected housing and how long you are able to stay in that housing, the program start and end dates are the dates when you are expected to be on site and when the program expects students to be leaving. Orientation is a mandatory event for programs that is their own country/culture specific safety program and the start of the integration process for students in country.
Most program start and end dates usually range around the housing dates and when orientation will be taking place.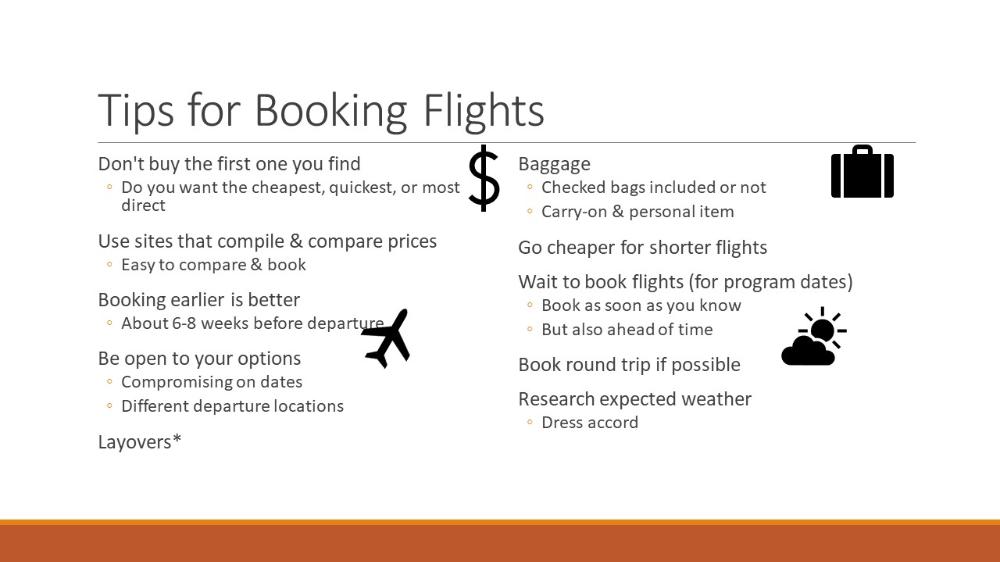 Additional tips:
•When searching for flights, use incognito mode or a private browser.
•Do NOT buy the first flight to your host country that you come across. Do your research for the cheapest, quickest, and/or most direct flights
•Book your flight 6-8 weeks in advance once you know your program start and end dates.
•Bo open to the options that are available when selecting flights. Whether or not you are okay with staying in a hostel/air b&b/or hotel days prior to moving in or are willing to depart from a different airport for a direct flight or quicker flight route.
•Pay attention to any possible layovers you may have during your travels.
•Depending on where you book from or the airline itself, pay attention to the baggage you are allowed to have. Some airlines allow up to 2 checked bags without an extra fee, but some also charge for checked bags. There are also weight limits for checked bags, this depends on the airline, but 50 pounds is the most common. Carry-on and personal items are allowed in the cabin. Carry-on items are limited by size and must fit within given dimensions from the airline, the carry-on can be a suitcase of the specified size, duffle bag, or backpack. The personal item is usually not checked by size or weight, these can be a duffle back, backpack, or purse.
•"Personally, I use a carry-on sized suitcase as my carry-on specified item, and a backpack as my personal item."
•Choosing cheaper seats on shorter flights helps to cut a bit off of the total cost for the overall travel expenses.
•Once you are aware of your program start and end start searching for flights.
•Research/look up the weather in your arrival destinations to dress accordingly.
•"I wore a t-shirt and cardigan in place of a sweater/sweatshirt for my flight, and didn't realize it was going to be 32°F when I landed at the airport."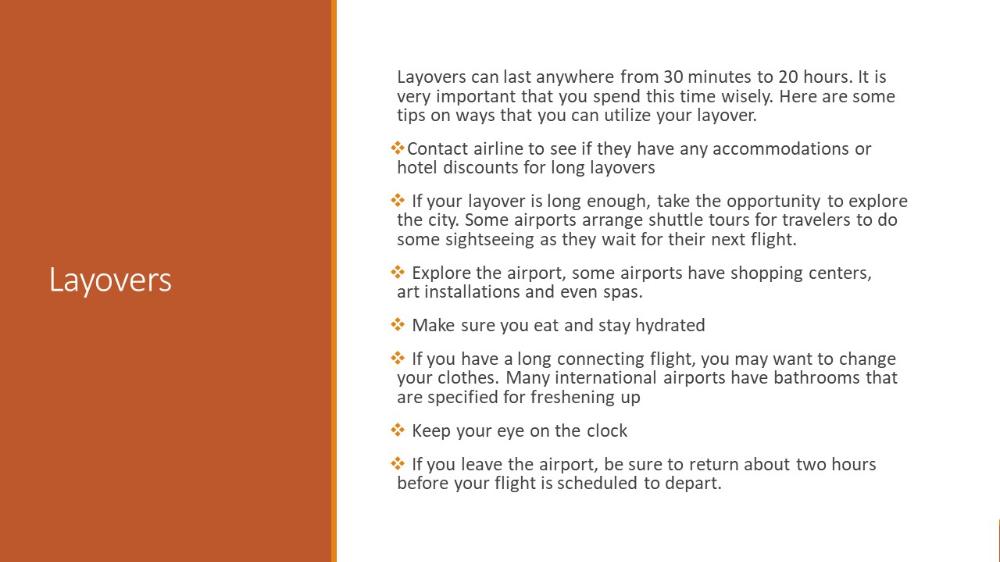 We recommend at least 2 hours for international layovers since you will need to go through customs/immigration and then security.
If you have left the airport, we recommend returning 2-3 hours before the flight's departure, in order to go through security.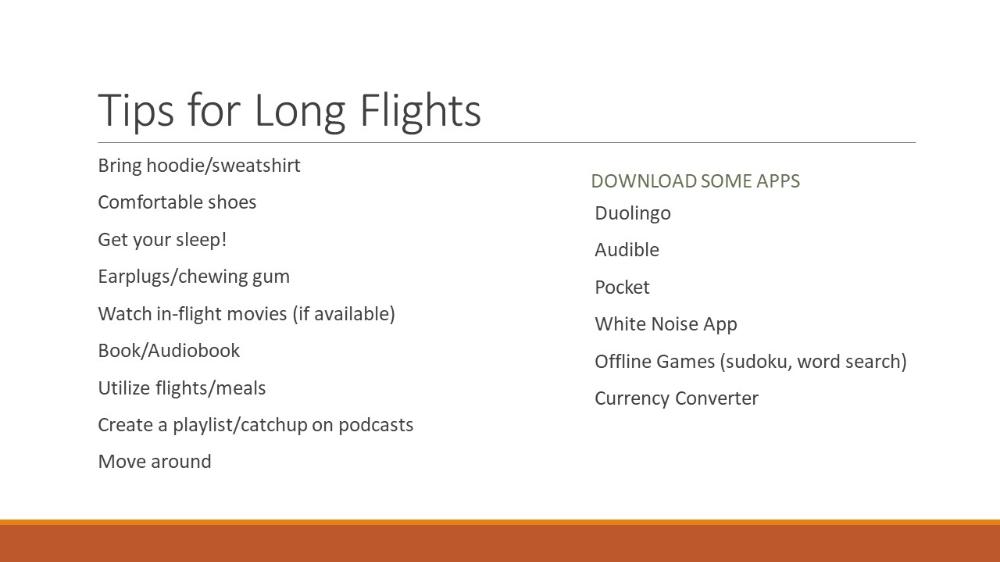 Packing for your program: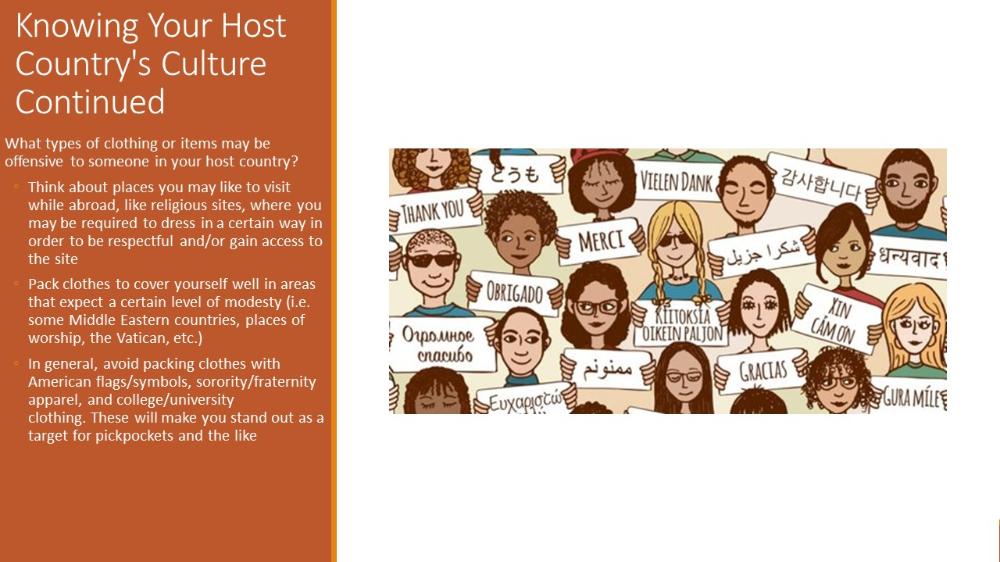 In addition to recognizing your country's culture, it is also important to recognize that you may appear offensive to them in some ways or make yourself look like a target.
If you are visiting a religious site, you may be required to dress respectfully to enter the site. For example, if you are visiting the Vatican, you would need to dress modestly.
Avoid packing clothes that may look Americanized – American flags and symbols, Greek apparel, college apparel, etc.
If you want to take pictures in Greek Life or college apparel, think of the items in your closet that have subtle displays of your affiliation. A rain jacket or sweatshirt with a small display on the chest or a hat with subtle branding are better options than full design shirts.
Be mindful of what you are wearing and where you are wearing it to.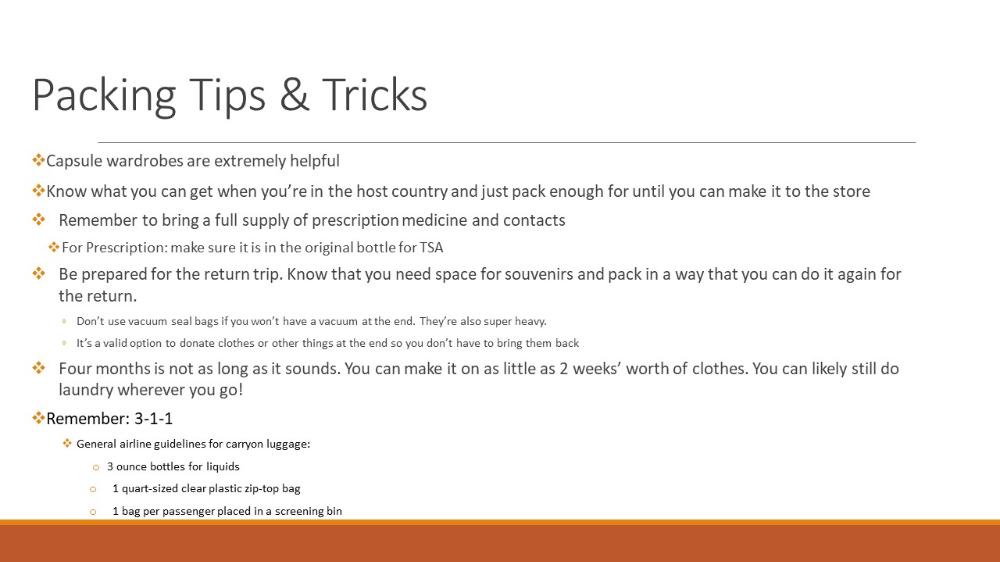 "Capsule wardrobes" are wardrobes where you can pack two weeks' worth of clothes and mix and match it enough that you can create a number of outfits.
Remember to pack a full supply of any prescription medication you may have in the original bottle for TSA. Pack medications in your carry-on
You can use vacuum seal bags – but be aware that they might clear space, but still weigh the same.
You can also donate clothes when you're abroad or go shopping if you didn't pack enough
When packing your personal item, make sure to have your passport easily accessible, your visa papers/letter of acceptance to the program, contact and general information for your program and directors.
Tag all bags you are taking with your name/program address - tag even your carry-on and personal items.